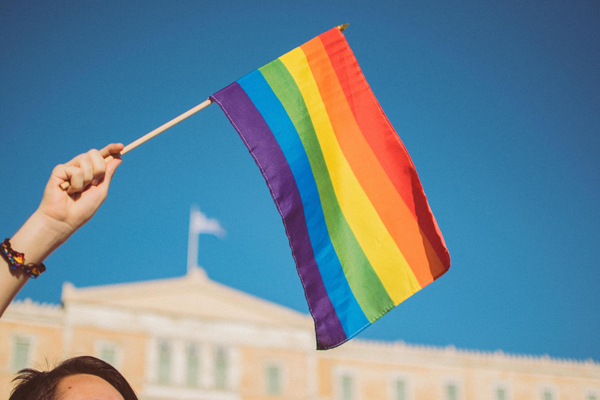 Our hotel celebrates love in all forms! We are proud to support all members of the LGBTQ+ community and serve as allys to those who stay with us.
One Full Bed Accessible
The Non-Smoking One Full Bed Accessible at Hotel 32One in San Francisco is a comfortable room features a plush full size bed that can accommodate up to 2 adults. This room is perfect for guest looking for accessible features in addition to the standard amenities all of our room types offer.
ADA Accessible Guest Room
Amenities
Hair Dryer
LCD/LED TV
Direct Dial Phone
Cable TV
Alarm Clock
Non-Smoking
Heater
Desk
In Room Coffee/Tea Maker
ADA Accessible
Iron/Ironing Board
ADA/Accessible
Guest Room
Features
Door hardware on all entry doors to accessible guestrooms and other passage doors within the room usable with one hand
Wheelchair Accessible Guestroom Door Entrance, Bathroom Door Entrance, Interior Doors Per ADA Standards That Allow At Least 32" Clear Passage Width So Persons Who Use Wheelchairs, Crutches, And Other Mobility Aids Can Visit Or Stay; In Addition, Door hardware (Levers, Pulls, Panic Bars, Etc.) On All Entry Doors To Accessible Guestrooms And Other Passage Doors Within The Room Are Usable With One Hand Without Tight Grasping, Pinching, Or Twisting Of The Wrist
Service Animals Allowed
Lowered Counter Height
Accessible Power Outlets
Hearing Impaired Light Alerts with Kit
Light/Lamp Controls are Push Button
Lower Level Individual Thermostat
Lowered Closet Bars and Shelving
Shaker Alarm Clock
Visual Alarm Equipped
Closed Captioning Television
Telephone with Volume Control
36" or More Accessible Path of Travel Around and Between Beds Per ADA Standards
Low Level Iron
Multi-Level Door Viewers
Closet Bars and/or Shelving Lowered
Drapery Control with a 36" Clear Path Within Reach & Lowered Wands
Push Button Light/Lamp Control-Type
Hearing Impaired Light Alerts – Free Portable Equipment Provided by Hotel
Table/Desk Height Accessible with Knee Space 27" (width) and 34" (height)
At Least (1) Power Outlet with a Clear Space in Front, 15" from Ground
Power Outlets within 4" of Telephone
Communication Kits Available with TTY Machine, Strobe Light, & Visual Door Knocker
Visual Alarm – Free Portable Equipment Provided by Hotel
Telephone with Visual Call Alert – Free Portable Equipment Provided by Hotel
Wheelchair Accessible Route in Room
ADA/Accessible
Bathroom Features
Roll-In Shower That Is Free Of Curbs Or Lips At The Shower Floor Thus Allowing Wheelchair Approach And Transfer Onto The Folding Shower Seat; in addition, Free Of Doors That Would Impede Wheelchair Transfer Onto The Seat, Horizontal Grab Bar On The Wall Opposite The Seat For Stabilization And Aid In Maneuvering While In A Shower Wheelchair, Faucet Controls And Shower Wand Positioned On The Wall Along The Side Of The Shower Seat So They Are Operable From The Folding Shower Seat or From The Shower Wheelchair, Roll-in Shower Has A Securely Fastened Folding Seat At 17"-19" Above The Floor Onto Which Persons Who Use Wheelchairs May Transfer To Shower
Shower Seat
Lowered Towel Hooks, Racks, or Bars Placed Within 54" Of The Floor For Side Approach Or 48" Of The Floor For Forward Approach So Persons Who Use Wheelchairs Can Approach And Use The Towel Racks
Faucet that is easily operable with hardware that is (i.e.: levers, wrist blades, single arm, etc.) usable with one hand
Bathroom floors in the accessible guestrooms slip-resistant
Wheelchair Accessible Bathroom Facilities
Wheelchair Accessible Sink That Is No More Than 34" High With At Least 29" High Clearance Under The Front Edge To Allow Persons Who Use Wheelchairs To Pull Under The Lavatory And Use The Faucet Hardware Per ADA Standards. Faucet That Is Easily Operable (i.e.: Levers, Wrist blades, Single Arm, Etc.) And Usable With One Hand, Without Tight Grasping, Pinching, or Twisting of The Wrist
Wheelchair Accessible Raised Toilet Per ADA Standards Including Toilet Seat Between 17"-19" Above The Floor; In Addition, Toilet Is Centered 18" From The Adjacent Side Wall, Which Is The Distance That Will Permit A Person With A Mobility Impairment To Use The Grab Bars. Accessible Toilet Have A Horizontal Grab Bar On The Adjacent Side wall That Is At Least 40" Long and Between 33"-36" Above The Floor For Stabilization and Assistance During Transfer From A Wheelchair; in addtion, A Horizontal Grab Bar On The Wall Behind The Toilet That Is At Least 36" Long and Between 33"-36" Above The Floor For Stabilization and Assistance During Transfer From A Wheelchair
Grab Bars in Shower with a Shower Seat
Hand-Held Shower Wand with Shutoff Valve and Temperature Regulator With At Least A 60" Long Hose Provided So Persons Who Bathe From A Seated Position May Wash And Rinse With The Directional Spray
Low-Level Towel Hooks, Racks, or Bars Placed Within 54" Of The Floor For Side Approach Or 48" Of The Floor For Forward Approach So Persons Who Use Wheelchairs Can Approach And Use The Towel Racks
Lower Mirrors
Drain and Water Pipes Under Sink are Insulated
Removable Shower Head
Toilet Grab Bars Per ADA Standards
LCD/LED TV
Direct Dial Phone
Cable TV
Alarm Clock
Electronic Locks
USB Charging Ports at Work Desk and Nightstand
Free Wi-Fi
Non-Smoking
Heater
Desk
In Room Coffee/Tea Maker
ADA Accessible
Daily Housekeeping Service
Iron/Ironing Board
Images
Other Rooms